National Safeguarding Adults Week 2020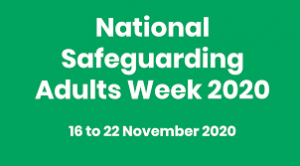 Today marks the beginning of National Safeguarding Adults Week 2020. One of the most important roles of YMCA Liverpool & Sefton is to ensure that the adults we support are safe from abuse, exploitation and harm. This week is a great opportunity for us to raise awareness and show you how we ensure that our services are safe places for our beneficiaries and that they feel supported to speak out.
Throughout 2020, our reports show that safeguarding concerns have reduced quarter on quarter. The main concerns reported involve self-neglect and this is something that we are working tirelessly to raise awareness around.
Our CEO Ellie McNeil will be signing a Safeguarding pledge, and our Safeguarding lead and Director of Homeless Services Hayley Jones will be presenting a virtual spotlight session 'Safeguarding in Homeless Services' alongside multiple partner organisations of  the Merseyside Safeguarding Adults Board. We will be linking both of these on our Twitter and Facebook this week, so keep an eye out for those.
In the leadup to this week, Hayley has also delivered a number of virtual Safeguarding training sessions in our continued commitment to ensure that all of our staff receive Safeguarding training which is refreshed yearly with the most up to date information. We are devoted to embedding Safeguarding into the culture of our organisation and supporting our colleagues with the necessary learning and tools to protect vulnerable adults from abuse and poor practice.
We may have been restricted this year in our ability to arrange events and activities to promote National Safeguarding Adults Week due to the pandemic, but all of our services work every day to protect our client base, and we will be updating you this week with all the news and goings on. Don't forget to check out our Facebook and Twitter for daily updates.